The "WWF Year of the gorilla" is a project of Ingo Walde.
It is his diploma in design at the University of Applied Sciences Nuremberg.
Gorillas are an endangered species. Especially the Mountain Gorillas (Gorilla beringei beringei) and the Cross River Gorillas (Gorilla gorilla diehli). Actually there are only 250- 300 Cross River Gorillas and 650-680 Mountain Gorillas living in Africa. They are the last ones of their species. The United Nations declared 2009 the Year of the Gorilla.
To spread out the word of these gentle giants is the overarching goal of this work.
Please leave your comments on my vimeo account!




» "Bergfreunde" partnership
20 May 2010

From 18.06 to 31.12.2009 i had a commission of 54,67 EUR through the bergfreunde partnership programm and ropeless.de.
Which i donate to the Dian Fossey Gorilla Fund International for an gorilla adoption.
The little guy listen to the name Ntaribi, it means "no problem"
» CLIMAX
20 May 2010


The Austrian climbing magazin CLIMAX featured monkeeclothing in his latest issue with an article about the environmental concept of monkeeclothing.
» SELECTED FOR "THE REEL" ISSUE
19 March 2010
I got an email from "THE REEL" editor Chris Wall from London who asked me that they want to feature my
wwf spot in their international edition of "THE REEL". And today i got the fresh DVD in my mail.
» MONKEE CLOTHING IS PART OF THE ISPO BRANDNEW AWARD
17 November 2009
Monkeeclothing takes part in the ISPO brand new award and need YOUR VOTE!
SO GO FOR IT!
Vote for monkeeclothing http://bit.ly/NBJ02 and their organic fair wear concept. Thx
» ADOPT A GORILLA TODAY
07 November 2009
Today i adopt an gorilla infant from the Dian Fossey Gorilla Fund International gorilla protection program.
I will post some more informations about it in a view days.
» SELECTED FOR ANIWOW 2009
22 October 2009
Year of the gorilla has been selected from Aniwow in Beijing China in the category "Best Motion Graphics Design".
The final ceremony will be from 28th - 31th of October 2009. What a shame but i can´t fly to beijing for that festival.
So it´s exciting who will made it and win the award.
» LEGENDARY SILVERBACK TITUS DIES
22 September 2009
Titus, the legendary silverback played the leading part in the hollwood movie "gorillas in the mist" and became the world's
most famous mountain gorilla. Also with the BBC documentary "Titus the gorilla king", the life story of Titus,
a silverback gorilla living in Rwanda's Virunga Mountains.
Titus was also the role model for the simple black shapes in my Gorilla Spot.
He was born on August 24th in 1974 and died last week in the morning of September 14th 2009
read more
» MOTIONOGRAPHER
05 September 2009
Motionographer write "Beautiful painterly visuals " of Ingo Walde motionographer
» BEST OF MOTIONGRAPHICS
03 September 2009
YEAR OF THE GORILLA, has been added to Best of Motion Graphics on Vimeo.
» FEATURED ON A BUNCH OF NEW WEBSITES
31 August 2009
A bunch of new websites cover the "WWF-Year of the gorilla" spot.
climbing.de (Thank you Martin), motionserved.com and gorilla-art.de

» FEATURED ON KLETTERSZENE.COM
28 August 2009
The guys from KLETTERSZENE.COM write some lines about Ingo Walde´s year of the gorilla.
» DVD-COVER
02 September 2009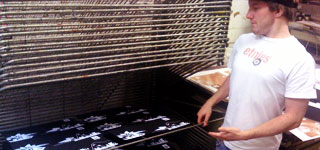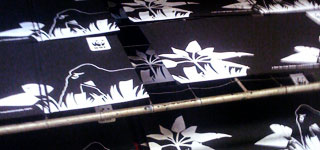 Thank you to Tobias Szabo for his silkscreen advise. We did a bunch of really cool DVD Covers last night.
» FEATURED ON STASH.TV
17 August 2009
Yeah, the "WWF - Year of the gorilla" is featured on stash.tv
» CURT NBG
22 August 2009
Trophäenschau and my diploma featured by the lokal city magazin curt
» BAYERN DESIGN
21 August 2009
BAYERN DESIGN write a short line about my diploma on their website.
» SELECTED FOR ITSARTMAG
17 August 2009
"WWF - Year of the gorilla" has been selected for the "itsartmag" vimeochannel
» WWF YEAR OF THE GORILLA ON VIMEO
16 August 2009
I have uploaded it also to vimeo. So please leave your comments to this movie on my vimeo account!
»LEAVE COMMENT HERE
» RELEASED
14 August 2009
Today i released the final "WWF year of the gorilla" movie
» RELEASE DATE
06 August 2009
Steve is just working on the sounddesign. Video will be released next week!
» WWF OFFICIAL PARTNER
25 July 2009
Good news…
the WWF is the official partner for my diploma movie.
The negotiation are completed. The movie will be here online asap.
» NO PUBLICATION YET
20 July 2009
Sorry but i´m actually in negotiation with wild life organisations as a partner of my diploma movie.
Before the negotiation aren´t completed, i´m not allowed to publish my movie on this website.
» TROPHÄEN SCHAU
20 July 2009
On friday the 24th of july 19:00 is the kick of for the diploma exhibition.
You can see my movie there on Friday evening on the vernissage,
and also on Saturday 25th 10:00-16:00, Monday 27th 8:30-18:30, Thuesday 28th 8:30-18:30.
For more information visit www.designdiplom2009.de
» COLLOQUIUM
09 July 2009
Allright, the final deadline is 22th of july. There´s the colloquium for my diploma.
Featured at the "Ohm-Hochschule" website